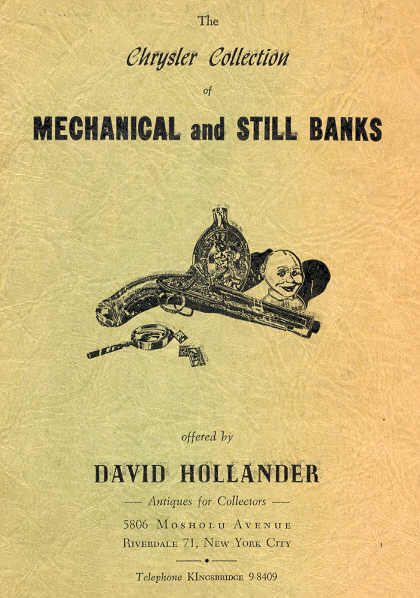 The
Chrysler Collection
of
MECHANICAL and STILL BANKS

offered by
DAVID HOLLANDER
—— Antiques for Collectors ——
5806 Mosholu Avenue
Riverdale 71, New York City
——— • ———
Telephone KIngsbridge 9-8409
Is proud to offer the following collection of
MECHANICAL and STILL BANKS
formed by
The Late Walter P. Chrysler
and
Walter P. Chrysler, Jr.
Most bank collectors are familiar with this notable collection. Actually, it was the pioneering of the Chrysler Collection among the other early collectors that started this tremendous interest in this absorbing field.
In offering this collection, I would like to say that as far as I know this is the first time such a collection has been offered intact at a cash price for individual specimens. I mention these facts as proof of the genuineness of these banks. I have always known this collection and have sold some of these same banks to the Messers Chrysler. We have put small tags on each so they may always be so identified.
These banks are all offered subject to prior sale, all prices are net. While we have duplicates of many, there is only one of each of the rarities, and so it would help if you made second choices. I suggest you order promptly and orders with checks receive first priority. Any bank may be returned if not satisfactory for full refund, providing it is returned within five days after receipt, and is in the same condition as when sold. All orders shipped Express collect unless otherwise designated.
I do not wish my good friends in the banking world to have any hurt feelings. There is nothing reserved for anyone, and nothing will be sold until 3 P.M., April 2, 1955.
---
There are over 450 still banks that are also for sale, a great many iron stills and semi mechanical banks, pottery, porcelain and glass. Also many quaint and unusual banks and money boxes. These are very difficult to list, as the forms and sizes are too varied for a brief listing. We would be happy to have you visit our shop and see for yourself, and if you have any specialty we could describe some by mail.
We are in a position to handle worthwhile collections for private sale.
We carry collectors items in the antique field and have catered to those desirous of putting together a worthwhile collection, and have started many new collectors as well as assisted veteran ones in the pursuit of their avocations. Many dealers and museums have also found us fair, possessing proper merchandise and knowledge of their particular needs.
As usual we carry American and English antiques and associated items with collections of guns, pewter, mechanical banks, paperweights, historical flasks, cup plates, and 18th century pottery and porcelain. Primitive paintings have long been a specialty of ours as has native art with ethnographical specimens of all countries.
We have, what we believe, an unusual shop, with plenty of parking space, easily accessible and just 30 minutes from the heart of New York. Just come up the West Side Drive (Henry Hudson Parkway) to the Broadway Yonkers Northbound Exit, two blocks north, and a left turn to our place. Same directions from points North. We welcome a visit from everyone.
---
The first numbers are our stock number, the following number is from the
"Handbook of Mechanical Banks" by John D. Meyer.
OP — Original Paint
OF — Original Finish
1
1 Acrobats, OP, fine
$225

2
2 Afganistan, OP, fine
400

3

4 Always did Spise A Mule
OP, Fine mule turns
60

4

5 Always did Spise a Mule
OP, fine, jockey
50


5
6 Artillery, OP, fine
60

6


7 Artillery, cannon and oct-
agonal fort. OP, but small
chip off end of base
425


7

8 Atlas, money moves the
world, OP, fine
175


8

9 Bad Accident, Reverse
legend, OP, fine
95

9


10 Bank Teller, tall teller
behind grill, OP, side of
cage cracked, wired on
1200


10

12. Bear, paws hugging log,
OP, fine
70

11

13 Bear on Haunches, OP
fine
125

12
15 Bill E. Grin, OP, fine
125
13

16 Bird on Roof, original
bird, OP, fine
225

14

20 Boy Robbing Birds Nest,
like new in original box
125

15
21 Boy Scout, OP, extra fine
125
16

22 Boy Stealing Watermelons,
OP, fine
150

17
23 Boy on Trapeze, OP, fine
110
18



24 Bread Winner, OP, end
of base chipped, some
replacements, needs
adjustments, as is
400



19

26 Buffalo Bucking, OP, very
fine
400


20
27 Building Circular, OP. fine
350
21

28 Building Small Eight Sided,
OP, fine
85

22
29 Bull and Bear, OP, very fine
85
23

30 Bull Tosses Boy in Well
Brass, fine
850
24
33 Cabin, OP, very fine
35
25


34 Calamity, OP, extra fine,
one rear leg broken but
present
350


26

35 Called Out, fine, as
usual no paint
850

27
36 Camera, OP, very fine
1000
28

37 Cannon, U.S. Spain
OP, very fine
500

29
39 Cat and Mouse, OP, fine
110
30
42 Chief Big Moon, OP, fine
100
31
43 Chimpanzee, OP, fine
350
32

45 Chinaman Reclining, OP,
very fine
250

33
47 Circus, OP, very fine
1000
34

48 Circus Ticket Taker, OP,
fine
250

35

49 Clown on Globe, OP,
fine
110

36

51 Confectionery, OP, very
fine
700

37


52 Cow Milking, OP, replaced
tail, 1 horn gone, other-
wise fine
200


38
53 Creedoore, OP, fine
35
39



Grenadier Bank, man in
peaked cap, base same as
Creedmoor, but marked
Grenadier on Rock, OP fine
400



40



Tyroleer with Feather,
wears boots, base similar
to Creedmoor. Base and gun
have been welded, as is
350



41
54 Creedmore, New, OP, fine
35
42

56 Darktown Battery, OP,
fine
125
43
57 Dentist, OP, fine
350
44

58 Dinah, with sleeve,
OP, fine
200
45

Dinah, no sleeve,
like new
250

46

60 Ding Dong Bell, Weedens,
OP, fine
350

47

61 Dog Barking on Safe, OP
fine
75

48

62 Dog Snapping, key winder
very fine
400

49
63 Dog on Base, OP, fine
65
50

64 Dog Charges Boy, bronze
very fine
145

51

65 Dog Standing, four footed
bulldog, fine
90

52
66 Dog Lost, OP
40
53

67 Dog on Turntable, bronzed
fine
35

54
68 Dog, I Hear A Call, OP, fine
25
55
69 Dog Speaking, OP, fine
50
56
70 Dog with Tray, OP, fine
200
57
71 Dog Trick, OP, fine
55
58
72 Dog Trick, OP, modern
18
59
75 Eagle & Eaglets, OP, fine
55
60
79 Elephant, 3 Stars, OP, fine
85
61
80 Elephant, modern, OP, fine
18
62

82 Elephant Man in Howdah,
OP, fine
60

63


86 Elephant Wheels (Jumbo)
OP, fine, but one wheel
needs replacement, as is
150


64
Elephant, on wheels, semi
60
65

Elephant, semi, moves
trunk 3-1/2" high
15

66

Elephant, same as above,
5" high
15

67

88 Elephant Three Clowns
On Tub, OP, fine
110

68
90 Feed the Kitty, OP, fine
500
69

94 Fortune Telling Building,
as usual nickel plated, fine
850

70
96 Forty Niner, OP
100
71
97 Fowler, OP, very fine
650
72
99 Frogs Two, OP, very fine
75
73

101 Frog on Rock, OP, very
fine
30

74
102 Frog on Lattice, OP, fine
20
75
103 Frog on Stump, OP, fine
35
76

105 Gem Bank, with name,
fine, original bronzing
65

77

105 Gem Bank, without name
fine, gilded
65

78
107 Giant, OP, fine
900
79

108 Girl in Victorian Chair,
OP, fine
750

80

109 Girl Skipping Rope,
OP, very fine
800

81
110 Globe on Stand, OP, fine
18
82
111 Globe on Arc, fine
20
83

Globe Savings Fund,
with bell, OP, fine
75

84
113 Goat, Billy, OP, fine
450
85

114 Goat, Frog, and Man,
OP, fine
500

86
116 Goat Butting, OP. fine
100
87

118 Halls Excelsior, Cashier
label
125

88
118 Halls Excelsior, Monkey
20

89

119 Harlequin, Clown and
Columbine, OP, extra fine
2000


90

121 Hen Setting, OP, very
fine
200

91
122 Hindu Turban, OP, worn
350
92
123 Hold the Fort, OP, fine
375
93
124 Home Bank, OP, fine
100
94

Home Bank, with gables,
fine but paint rough
150

95
Hoop-La, OP, fine
300

96

126 Horse Race, lattice base,
OP, fine
250

97
127 Humpty Dumpty, OP, fine
55
98

128 Independence Hall, OP,
fine
25

99
129 Indian and Bear, OP, fine
95
100
130 Initiating Bank, OP, fine
850
101

131 Jolly Nigger, Stevens,
OP, like new
35

102

Jolly Nigger, Shepherd,
OP, fine
40

103

134 Jolly Nigger, Butterfly
Tie, OP, fine
75

104

Jolly Nigger, Aluminum
OP, fine
75

105

135 Jolly Nigger, High Hat
OP, fine
175

106

Jolly Nigger, High Hat
Butterfly Tie, OP, fine
350

107

138 Jonah and the Whale,
OP, fine
125

108
140 Katzenjammer, OP, fine
400
109
141 Keene Register, OP, fine
50
110
143 Leap Frog, OP, fine
135
111
144 Liberty Bell, OP, fine
75
112

145 Light House, OP, very
fine
225

113

146 Liliput, Halls, OP
extra fine
45

114

146 Liliput, Halls, pleated
tray, OP
45

115

147 Lion, Monkeys, OP, extra
fine
55

116
148 Lion Hunter, OP, fine
250
117
150 Little Joe, OP, very fine
150
118

153 Magic Bank, chipped door
otherwise fine
65

119
154 Magacian, OP
125
120
Magie Bank, tin, foreign
65
121

155 Mammy, chipped spoon,
OP, fine
125

122

156 Mason Bank, OP, very
fine
125

123
157 Merry Go Round, OP fine
1850
124
158 Merry Go Round, OP, semi
35
125
159 Mikado, OP, fine
1500
126

162 Monkey and Tray, OF,
fine
350

127

163 Monkey and Cocoanut,
OP, fine
175

128

164 Monkey, organ grinder,
modern
25

129



166 Moody & Sankey, OP,
fine. This is a different bank
than the one illustrated in
Meyer. Has portraits.
1200



130
168 Mosque, OP, fine
125
131

169 Mule Entering Barn,
OP, fine
75

132
170 Mule Bucking, OP, fine
125
133
171 Multiplying, OP, fine
45
134
173 National Bank, OP, fine
250
135

174 New Bank, OP, fine, rare
variety, lever in front center
300

136
174 New Bank, OP, fine
100
137
175 North Pole, OP, fine
900
138
176 Novelty, OP, fine
25
139

177 Organ, Cat & Dog, OP,
fine
45

140


178 Organ, Boy & Girl, OP,
handle on right and the
handle repaired.
50


141
179 Organ Medium, OP, fine
35
142

179 Organ Medium another,
handle on right, OP, fine
40

143

180 Organ Miniature, OP,
top plate repaired
135

144

181 Organ, Dancing Bear,
OP, fine
350

145

182 Owl, moves head, OP,
fine
18

146

183 Owl, slot in head, OP,
fine
25

147

184 Owl, slot in book, OP,
fine
25

148
185 Paddy & Pig, OP, fine
100
149
186 Panorama, OP, fine
400
150


187 Patronize the Blind Man,
OP, chip rear of base,
otherwise fine
400


151

188 Peg Leg Beggar, OP,
fine
350

152

189 Pelican, man thumbs
nose, OP, fine
150

153

189 Pelican, Hindu, top of
beak replaced
100

154
192 Picture Gallery, OP, fine
500
155

194 Pig in High Chair,
nickled, fine
90

156
195 Pig Tricky, OP, fine
200
157
Pig Nickled, fine
125
158
196 Trick Pony, OP, fine
50
159
199 Presto Building, OP fine
45
160
201 Pug Frog, OP, fine
350
161

202 Pump and Bucket,
replaced lid


162

203 Punch and Judy, small
letters, OP, extra fine
75

163

203 Punch and Judy, large
letters, OP, extra fine
85

163
a
204 Rabbit, standing small,
OP, fine
50

164

205 Rabbit, standing tall,
OP, fine
100

165

206 Rabbit in Cabbage,
OP, fine
30

166

207 Ram Bucking, boy
thumbs nose
500

167

211 Roller Skating Rink,
OP, fine
1200

168

212 Rooster Crowing,
OP, fine
30

169
214 Santa Claus, OP, fine
75
170
216 Scotchman, tin, OP, fine
35
171

218 Shoot the Chutes,
OP, fine
1200

172

220 Squirrel and Stump,
OP, fine
250

173
222 Stump Speaker, OP, fine
85
174
223 Tabby, OP, fine
65
175

224 Tammany, both sides,
OP, very fine
20

176

224 Tammany, another,
screw on trap
20

177

224 Tammany, another similar,
Halls Pat, one side
25

178

224 Tammany, another, plain
fans both sides
25

179
226 Teddy & Bear, OP, fine
75
180
227 Telephone, nickled, fine
35
181

Thrifty Tom, tin
Jigger bank, OP, fine
85

182

228 Trolley Motor Bank,
OP, fine
850

183

230 Uncle Remus, fence
cracked, OP, fine
600

184
231 Uncle Sam, OP, fine
85
185

235 Uncle Tom, marked
lever in base, OP
100

186

235 Uncle Tom, unmarked,
lever in head, OP
100

187

236 Weedens Plantation,
OP, fine
125

188
237 William Tell, OP, fine
75
189
240 Wireless, OP, fine
75
190
244 Worlds Fair, OP, fine
85
191
245 Zoo Bank, OP, fine
135
192



Safe, top springs open,
unlisted by Meyer, 6-1/2"
high, OP, fine, extremely
rare
900



193





Jack on the Roof, this is
a very rare little bank
that some people claim
does not exist. We have
the original. It is 4-1/2"
high, OP, fine
1000





194





Noahs Ark, cast iron,
painted bright colors, lid
for Ark opens, small cast
iron animals inside, border-
line semi-mechanical, ex-
tremely rare, 7" long
400





195

Nickel Register, bean
pot, OP, fine
35

196

Dime Register, 5" chest,
OF
35

197

Dime Register, another,
4-1/2" different casting
35

198

Clock Registering Bank,
5 coin, 7-1/4" high, OP
25

199


Clock Registering Bank,
another, shaped case,
7" high, OP
25


200

Time Safe, "what time
does it open", safe below
50

201



Small Safe, Washington
on top, printed cards
inside give the times of
the Worlds Capitals
25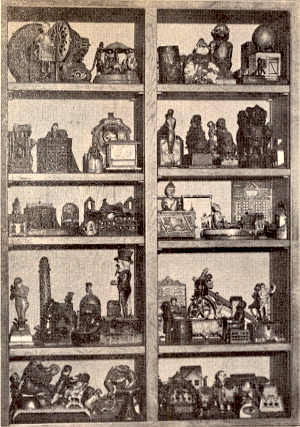 ---